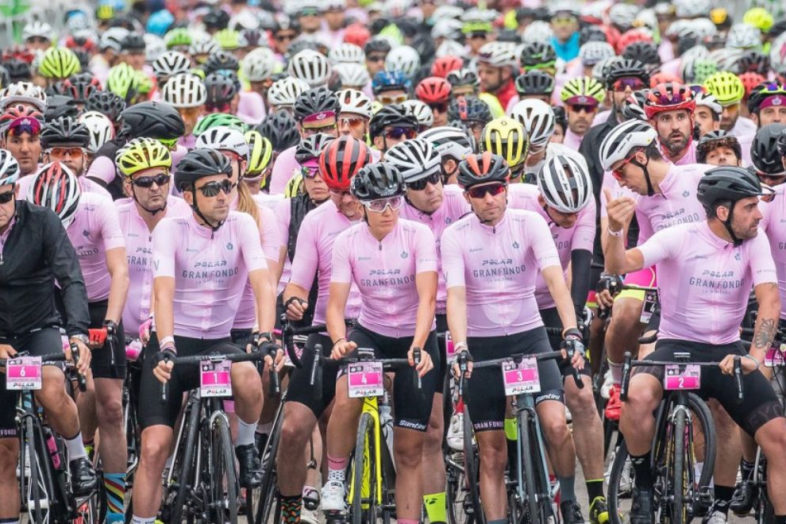 10 Top Cycle Touring Events in Spain
Cycle touring events in Spain are increasing, generating a very large number of participants.
Participating in cycle tourism is highly recommended. These are days to share with your group, your partner, your family and other cycling enthusiasts. Cycle touring events that involve both challenges for which we prepare conscientiously, but which leave us with a smile and an indelible memory on arrival. And if we don't succeed, we prepare for next year.
Fortunately, cycle tourism events are increasing all over Spain and an attractive challenge close to our city is not uncommon. Here are 10 events, although there are many more that deserve to be on this list.
Índice
Mediterranean Epic Gran Fondo has managed to generate great expectations despite its short history. With two possible distances of 208 or 110 km respectively. If there is one thing that has made this cycling tour stand out, it is how highly valued it is among the participants organisationally speaking. It has the pleasure of having Perico Delgado as an exceptional sponsor, starting and finishing in Oropesa de Mar.
On its route to familiar climbs such as Cabanes, Serratella, Catí, Culla or Coll del Vidre. It is usually held in spring, benefiting from the excellent Mediterranean weather, always perfect at that time to make cycling through the Valencian Community a real pleasure.
Vuelta al Teide is a cycle touring event that is a real challenge. It shouldn't surprise us either: anything that mentions Mount Teide is talking about a sporting challenge. 160 km with 4,000 m positive slope, with an ascent of 30 km to the Teide National Park, reaching more than 2,000 m altimetry. Usually in spring, benefiting from the good weather. Well, talking about the Canary Islands and good weather is unnecessary but it is always good to remember how good it is.
Mussara turns Reus pink each year. This cycle touring event is a scenic delight, crossing Tarragona's historic regions of Baix Camp and Priorat and the super-ascent to the Coll de la Mussara, culminating in a day that brings together thousands of participants. Its success has prompted the Mussara label to bet on extending its cycling routes to other autonomous communities such as Galicia or Euskadi.
There is hardly a cycle touring event with as much participation success on the Balearic island as Mallorca 312. With a format of 3 possible distances, 312, 225 and 167 km respectively, for one day the bicycles take over Mallorca in a challenge that is not easy even for the shortest modality. It's one of those events that sells out as soon as it launches, and it's usually held between the months of May-April. In its latest editions, with the participation of renowned cyclists such as Mavi García, Alberto Contador, Jan Ullrich, Óscar Freire or Joseba Beloki.
Bilbao is the Basque capital's cycle touring event par excellence. Time to forget about heroic times, and time to enjoy cycling over distances designed so that everyone who fancies this cycling festival can take part. The roads of Bizkaia take us to climbs such as Andraka, Unbe, Artebakarra, Gerekiz, Morga or Vivero, which should not be confused with Athletic Bilbao's line-up of Agirrezabala, Muniain, Villalibre, Pecharromán, Balenziaga…
3 possible distances between 85 and 125 km to experience a great cycling party in Bilbao, usually held to open the spring season.
Talking about cycle touring and not talking about the Quebrantahuesos should probably be classified as a crime in the Penal Code. It is event with a long history capable of bringing together thousands of cyclists year after year, all faithful to the appointment of conquering Somport, Marie Blanque, Portalet and Hoz de Jaca, long and leg-breaking climbs (or Quebrantahuesos, which is where we imagine the name of the event comes from) over 200 very hard kilometers, more when the day turns and it starts to rain, something that has happened on occasion in recent years. For cautious people there is the simple option called Treparriscos, 85 km, which is a little easier to finish.
Purito Andorra is one of the few cycling tours that we can find in the middle of summer. Obviously, the fact of being held in Andorra makes it feasible, since the temperature is ideal for touring this principality. The race is named after the former cyclist Purito Rodriguez, who gave us so much joy in the past.
Purito Andorra has up to 3 different distances, all starting and finishing in Cortals d'Encamp. The 115-km long route is tremendously attractive as well as hard, through Alt de la Rabassa, Coll de la Gallina, Alt de la Comella, Collada de Beixalis and Coll d'Ordino.
Named after one of the best Spanish cyclists in history, Alberto Contador. This event includes two distances of 162 and 111 km respectively, and is organised by the 312 Bike & Tours label, who are in charge of holding the Mallorca 312 every year. The race is held in Oliva (Valencia), and is now in its eleventh edition.
Anyone who has ever experienced the Sea Otter Europe Costa Brava-Girona can attest to the great atmosphere that prevails year after year, with several days full of events around this festival for bicycle lovers.
Among these events is the Continental Ciclobrava, a race with distances of 70, 100 and 140 km respectively, through the iconic climb of Sant Grau d'Ardenyà, Romanyà, La Ganga and Montuic, passing through historic towns such as Monells, and culminating at the La Devesa promenade.
3 Nacions cycling tour, sponsored by the legendary Jose A. Hermida, has been running for more than 40 years, with great success in the Pyrenees. 140 km of cycling starting in Puigcerdà, through Andorra la Vella and finishing in Envalira. Once this challenge has been overcome, the race continues through France with ascent to the famous Coll de Puymorens and descent through the Tour de Carol before returning to Puigcerdà. Once the route has been mentioned, it is easier to understand why this event owns the name of 3 Nacions.
Ready? Remember that at Cycling Friendly you can rent bikes around Spain to participate in your next challenge.