Discover the wonders of cycling tourism in Pollença: routes and tips for an unforgettable adventure.
Popular plans you can do by bike in Pollença
Discover Pollença by bike or on foot! Whether you are a fan of road cycling, MTB or triathlon, you cannot miss this beautiful village in the north of Majorca and at the foot of the Sierra de Tramuntana. An unbeatable spot to enjoy the routes of Faro de Formentor and Sa Calobra.
Download the most complete cycling guide to Pollença
By signing up, you agree to receive promotional emails about activities and insider tips. You can unsubscribe or withdraw your consent at any time with future effect. For more information, please read our privacy statement.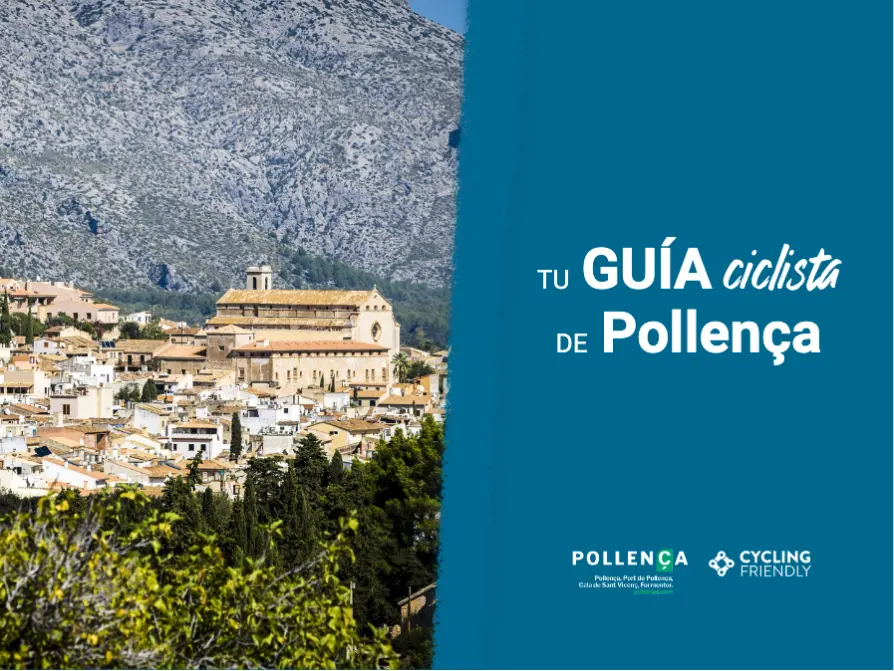 Cycling Accommodations in Pollença
The island of Majorca is one of the most important cycling destinations in Spain. Every year the streets are full of cyclists enjoying the cycling paradise, where not only unique climbs are waiting, but also different route profiles, uncrowded streets and unforgettable spots.
The hairpin bends of Sa Calobra and the climb to Faro de Formentor are a must-see if you choose Pollença as the destination for your next cycling getaway. Although not everything is simple and easy. Demanding routes to climb the mountain passes boasting unique views. It will be worth the effort!
Recommended cycling routes in Pollença
If you want to relax your legs after the ride, enjoy a bike ride along the coast from Puerto de Pollença or discover the rich heritage of Pollença village. The two villages, separated by 7 km, offer bicycle tourism, gastronomy, sport and leisure.
Triathlon enthusiasts can also take advantage of the complexes in Puerto de Pollença that focus on the triathlete's maximum performance. With Olympic swimming pools, the sea just a few meters away and a multitude of cycling and walking routes, the Port of Pollença welcomes a large number of triathletes every year for pre-season training.
Cycling events in Pollença
Faro de Formentor
You will be able to cycle around the Formentor peninsula through 21 km of road with continuous curves and arriving at the Formentor lighthouse. The impressive views of the Mediterranean border this beautiful route and some cliffs that you will never forget.
Coves Blanques
A great discovery! From the Cala Barques car park we can enter the path of Coves Blanques, originally built by republican prisoners during the post-war period. Through it and without much effort we can ascend this path that shows us panoramic views of the Cavall Bernat, access an old powder keg carved into the rock or enjoy its cliffs.
Ascent to Calvari
You cannot leave Pollença without climbing Calvari! The spectacular views from above where you can see Pollença, the Bay of Pollença and the Serra de Tramuntana, are well worth the effort of the climb. Face the 365 steps, an ascent accompanied by crosses and cypresses. It may seem like a lot of steps, but it sure isn't anything if you're a serious cyclist.
Plaza Mayor
Stroll to the Plaza Mayor de Pollença, a place with a special charm, full of bars and cafeterias, a meeting point for all the locals, creating a very pleasant and relaxed atmosphere. It is worth walking through its adjoining streets with old houses and typical Mallorcan architecture that gives us an idea of ​​the daily life of the local people. Don't miss the Sunday market!
Frequently asked questions for cyclists who want to get to know Pollença
What makes Pollença a popular destination for cyclists?
Pollença, nestled in the heart of Mallorca, Spain, has become a sought-after destination for cyclists due to its diverse landscapes, stunning coastal views, and well-maintained cycling routes. The combination of challenging climbs and scenic routes makes it a haven for cycling enthusiasts.
Where is Pollença located and how do I get there?
Pollença is located on the northern coast of Mallorca, one of the Balearic Islands in Spain. The nearest major airport is Palma de Mallorca Airport (PMI), which is approximately a 45-minute drive from Pollença. Visitors can reach Pollença via car, bus, or taxi from the airport.
What are some popular cycling routes in Pollença?
Passionate cyclists can explore various routes in Pollença. The "Cap de Formentor Loop" offers breathtaking views along the rugged coastline, while the "Coll de Sa Batalla" route challenges cyclists with a rewarding ascent. The "Puig Major" climb, the highest point in Mallorca, is also a must for experienced riders.
Tell us about the iconic climbs for cyclists in the area.
Cyclists seeking a challenge often tackle the iconic climbs in Pollença, such as the "Sa Calobra" ascent, famous for its hairpin turns and stunning views. The "Coll de Femenia" climb is another popular choice, offering a satisfying workout and panoramic vistas.
Are there cycling options suitable for different skill levels?
Absolutely! Pollença caters to cyclists of all levels. Beginners can enjoy leisurely rides along the coastal roads, while advanced cyclists can push their limits on challenging mountain routes and steep climbs.
Is bike rental available in Pollença?
Yes, there are several bike rental shops in Pollença, providing a variety of bike types, including road bikes, mountain bikes, and e-bikes. Renting a bike is a convenient option for exploring the area's cycling routes.
Are there any cycling events or tours in Pollença?
Throughout the year, Pollença hosts various cycling events and tours that bring together cyclists from different parts of the world. These events provide a fantastic opportunity to discover new routes and connect with fellow cycling enthusiasts.
What are some additional attractions for cyclists in Pollença?
In addition to cycling, Pollença offers attractions such as the historic town center, local markets, and nearby beaches. Exploring the Calvari steps, visiting the local art galleries, or indulging in traditional Mallorcan cuisine are activities that can complement your cycling adventure.