Discover the wonders of cycling tourism in San Javier: routes and tips for an unforgettable adventure.
Popular plans you can do by bike in San Javier
San Javier stands out for its rich landscape and unique climatic and geographic conditions. This town located in Murcia and bathed by the Mar Menor, the largest salt lake in Europe, is a great destination for cycling. Ready to live the experience?
Recommended cycling routes in San Javier
Discover San Javier by bike! Located in a privileged corner of the Mediterranean which throughout history has been chosen by important civilizations … and cycling enthusiasts we were not going to be less!
The municipality of San Javier is home to many cycle routes to the delight of cyclist lovers, communicating with the main attractions of Murcia, both by road and by MTB-trails.
Cycling can be done almost all year round thanks to its 320 days of excellent weather to fully enjoy the great beauty of the landscapes of this Cycling Friendly destination.
And if you were looking for the sea during your cycling trip, you're in luck! San Javier is washed by the sea twice, by Santiago de la Ribera and La Manga del Mar Menor.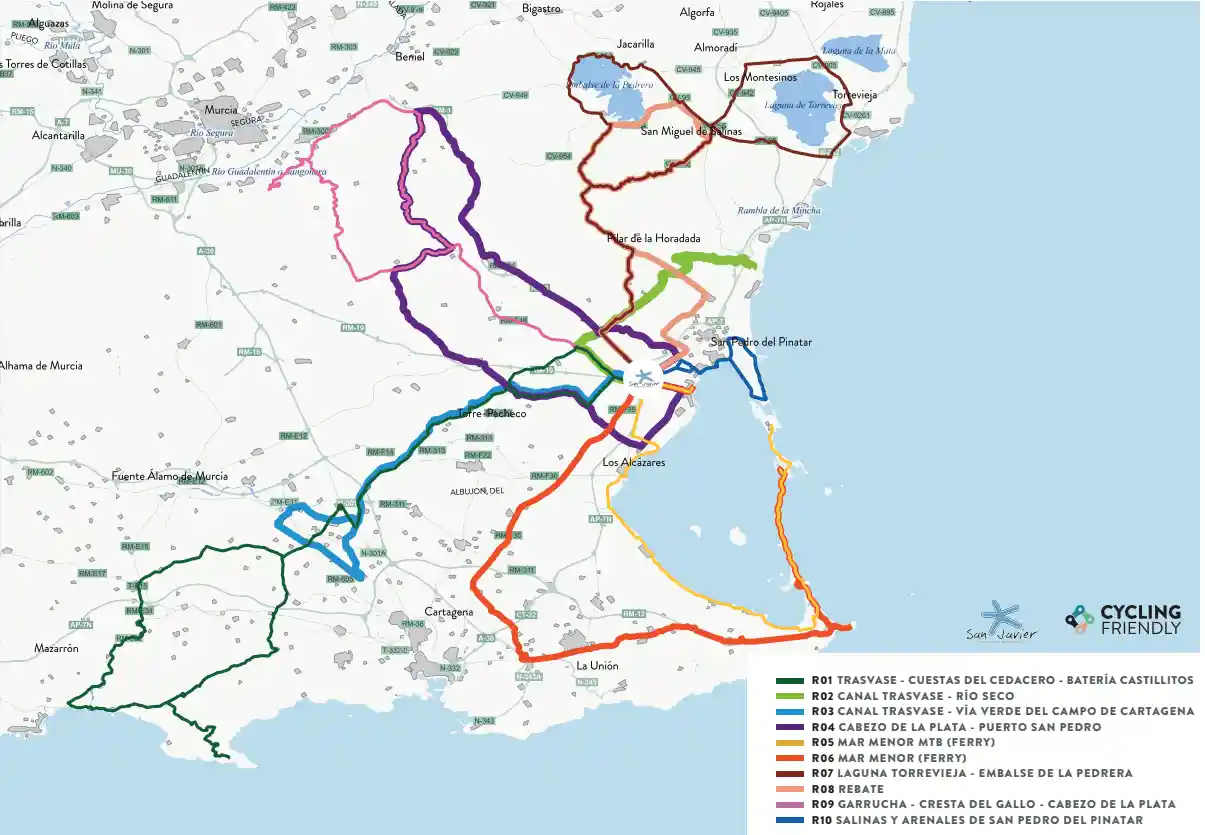 Download the map with the best cycling routes in San Javier
By filling out the form, you agree to receive promotional emails about activities and expert advice. You can unsubscribe or withdraw your consent at any time with future effect. For more information, please read our privacy statement.
Get on your bike and travel the 73 km of coastline of the Mar Menor lagoon, enjoying a relaxing swim on its beaches with clear waters, very rich in salt and iodine.
Discover the Manga del Mar Menor from San Javier, a privileged strip of land that benefits from both the calm, warm and still waters of the lagoon and the Mediterranean through its 18 km length. A geographical whim that will not leave you indifferent!
Visit the neighboring Cycling Friendly towns of Los Alcázares or San Pedro de Pinatar!
Cycling events in San Javier
What to see in San Javier
San Francisco Javier Church
This historic church is a prominent landmark in San Javier. Its beautiful architecture and intricate details make it a must-visit site for those interested in religious and architectural heritage.
Mar Menor
San Javier is located near the Mar Menor, a unique saltwater lagoon and the largest in Europe. The lagoon's shallow and warm waters, along with its mud baths, offer a unique and therapeutic experience for visitors.
Dos Mares Shopping Centre
For shopping and entertainment, the Dos Mares Shopping Centre is a popular destination in San Javier. With a variety of shops, restaurants, and cinemas, it's a great place to spend some leisure time.
Playa de Santiago de la Ribera
This beach in the neighboring town of Santiago de la Ribera is easily accessible from San Javier. It offers a sandy shoreline, clear waters, and a pleasant promenade for a relaxing beach day.
Frequently asked questions for cyclists who want to get to know San Javier
Why is San Javier a great destination for cyclists?
San Javier offers cyclists a perfect blend of picturesque landscapes, favorable weather, and a variety of cycling routes. Its coastal setting and diverse terrain make it an appealing choice for cycling enthusiasts.
Where is San Javier located and how can I get there?
San Javier is situated in the Murcia region of southeastern Spain, near the Mar Menor. The nearest major airport is Murcia-San Javier Airport (MJV), which offers convenient access for travelers. It's also accessible by car or public transport from nearby cities.
What are some popular cycling routes in San Javier?
Cyclists in San Javier can enjoy a range of routes. The "Coastal Loop" takes riders along the scenic coastline of Mar Menor, while the "Sierra de Escalona Climb" offers a challenging ascent with rewarding panoramic views.
Tell us about the iconic climbs for cyclists in the area.
The "Sierra Espuña Climb" is a renowned ascent near San Javier, known for its demanding gradients and stunning mountain vistas. Another iconic climb is the "Cabezo de la Fuente Climb," offering scenic views as cyclists conquer the elevation.
Are there cycling options for different skill levels?
Certainly! San Javier caters to cyclists of all levels. Beginners can enjoy flat coastal routes, while experienced riders can tackle more challenging climbs and longer rides.
Can I rent bicycles in San Javier?
Yes, there are bike rental shops in San Javier where you can find a variety of bike types, including road bikes and mountain bikes. Renting a bike is a convenient way to explore the cycling routes and landscapes.
Are there cycling events or tours in San Javier?
Throughout the year, San Javier hosts cycling events and guided tours suitable for cyclists of all levels. These events offer opportunities to discover new routes, connect with fellow cyclists, and immerse in the cycling community.
What other attractions can cyclists enjoy in San Javier?
Aside from cycling, San Javier offers attractions such as beautiful beaches, historic sites like San Francisco Javier Church, and the Mar Menor's healing mud baths. Exploring local culture and cuisine further enriches the overall experience.